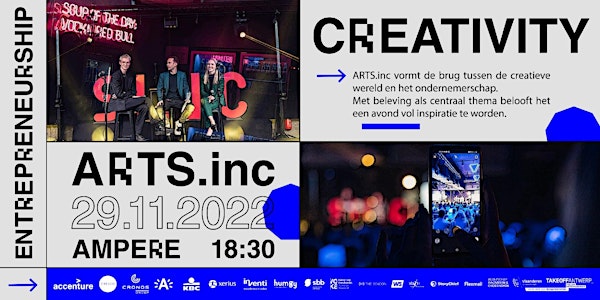 ARTS.inc
ARTS.inc: where creativity meets entrepreneurship.
When and where
Location
Ampere 21 Simonsstraat 2018 Antwerpen Belgium
About this event
ARTS.inc
De tweede editie van ARTS.inc staat voor de deur!
Wil jij al langer de ondernemerswereld betreden met je creatieve ideeën? Of ben je benieuwd wat jij als creatieveling kan doen in de ondernemerswereld? SINC brengt verschillende mensen uit de creatieve sector naar voren om te praten over alles omtrent creatie en beleving. Na deze inspirerende talks kun jij je creatieve vleugels volledig spreiden en jouw ideeën naar een hoger niveau brengen.
Ben je een vormgever, videograaf, modeontwerper, tekenaar,... of gewoon creatief? ARTS.inc zorgt ervoor dat jij nooit meer achteraf moet denken: 'Had ik toen maar die sprong gewaagd.'
ARTS.inc vormt de brug tussen het ondernemerschap en de creatieve wereld. Met beleving als centraal thema belooft het een avond vol inspiratie te worden.
Timetable
⧠ Keynote 1:
Flanders District of Creativity _ Simon Gryspeert _ Flanders DC ondersteunt, promoot en verbindt creatieve ondernemers uit Vlaanderen
⧄ Panelgesprek co-creatie:
Never Forget Tomorrow & PLUS-ONE Gallery_ Thomas De Ben (Founder & Creative PM)
Antwerp Poster Festival_ Dennis Janssens (Founder)
⧄ Panelgesprek gaming:
DAE Studios _ Michiel Houwen_Game Technology Accelerator (Managing Director)
Poppins & Wayne_Wim Wouters (Co-founder)
Accenture Song_Yannick Peers (Design & Innovation Lead)
⧠ Keynote 2:
Studio Pieter Boels _ (typo)graphic art & design_ Pieter Boels (Founder)
⧠ Host:
Mathias Mallentjer _ Production Office
Praktisch
⧠ Deuren open: 18u30
⧄ Adres: AMPERE, Simonsstraat 21, 2018 Antwerpen
⧠ Datum: Dinsdag 29 november
Benieuwd naar onze vorige editie? Bekijk de aftermovie van ARTS.inc 2021 hier ↓