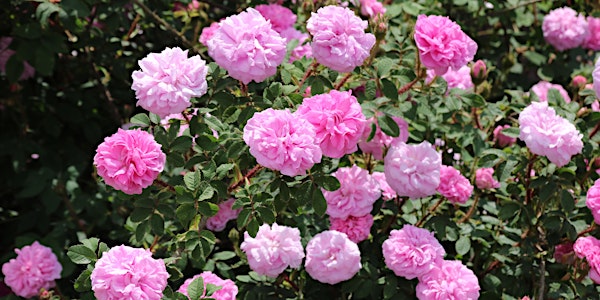 15th International Heritage Rose Conference
We are pleased to welcome you on the 15th International Heritage Rose Conference REGISTRATION PAGE. Click on "RESERVE A SPOT".
Date and time
June 3 · 8am - June 15 · 4pm CEST
Location
Pre-tour in Flanders, Main programme Brussels, Post-tour Luxembourg, Germany, Switzerland Conferences : Cercle Gaulois, rue de la Loi 5 1000 Brussels Belgium
About this event
12 days 8 hours

Mobile eTicket
Dear Rose Friends,
It is my great pleasure to welcome you all to the 15th International Heritage Rose Conference in my country. The Belgian Royal National Rose Society is more than honoured to host this event under the auspices of the World Federation of Rose Societies (WFRS).
The attachment that Belgium has for the Rose goes back to the time of Emperor Charlemagne (the father of Europe) as around the 800's he encouraged the cultivation of the rose in our country and of course at that time only some species were available.
Belgium has a long rose cultivar history. Parmentier, Crépin, van Houtte and Lens are famous names that have in the past made Belgium's renown through the world. P.J. Redouté, born in Belgium was certainly the "Raphael" of the rose painters. He was a favorite of Marie-Antoinette and he tutored Empress Josephine. Famous for his water paintings of old rose cultivars he gave a good picture of early rose breeding.
For all rose lovers, our organizing committee is preparing a beautiful event with speakers dedicated to the old rose family and their conservation along with exciting visits and Belgian cultural experience. During the Pre and Post tours, participants will have the opportunity to see more historical places and gardens. I strongly encourage you to visit us in June 2023 for friendship around the roses.
"It is the time you have wasted for your rose that makes your rose so important." (Saint-Exupery)
​With all my rosefull regards,
​Henrianne de Briey
WFRS Immediate Past President
Information on the programme www.rosabelgica2023.com
Email: rosabelgica2023@gmail.com
Phone if urgency: +32 496 16 79 36
See event policy on website